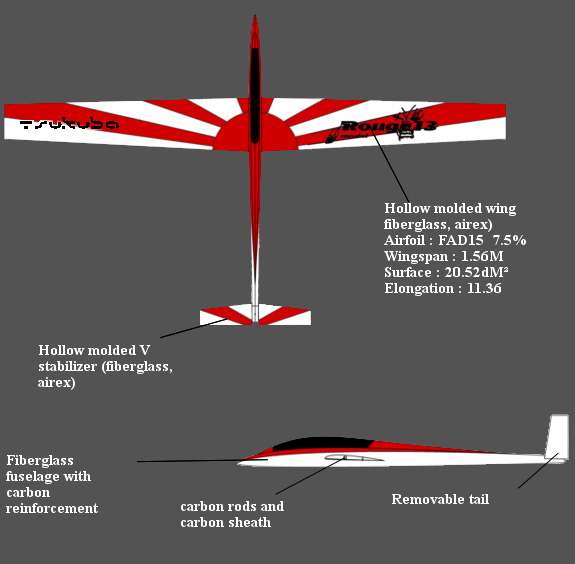 Tarif :
• Eco (fiberglass and carbon wing(without airex, more fabric and spars = heavier wing and stabilizer) : 290€

• Light (fiberglass and airex wing) : 330€

• Classic (fiberglass, airex and carbon wing) : 360€

• Shipping with french postal service : USA : 55€, Australia : 65€, UK : 37€, for other country contact us by email, we send gliders all over the world


Options :
• Extra colors : 20€ each

• Color gradiant : 20€

• Custom paint : variable price depending on the patterns

• Cutting and application of vinyl : variable price depending on the size and patterns

• Assembly (stabilizer gluing on V support; V support drilling and pose of hardware support in the fuselage; gluing the wing connection tube in the fuselage; passages wing joints cutting; installation of retaining hook wings): 60 €
The Tsukuba model is inspired by 60 inch planes to have an efficient glider for leisure use. It has a design inspired by the BAe Hawk making it unique in the air and on the ground.

It's a pitcheron system glider, the empennage doesn't move, wings only can move with two servos in the fuselage. Like that the glider is lighter than a conventional glider and the wing has less drag thanks to the absence of ailerons.

As each Rouge 13 model the Tsukuba can be completely customized as you wish with paint and vinyl (two colors included, look option for extra colors).
Watch the flight of Tsukuba model on our youtube channel.